Trips








































































The RingBunny






Ecurie Europe



Sabine Schmitz






Odd bits








Jĝrund Seim




Links marked with a * require a password.
Monday
The final day of this 5-day weekend started in the usual fashion: a warm-up lap followed by a fastish lap. A quick tour of the parking lot saw me picking up Dave to passenger on the third lap. Afterwards I spotted Martin again, with Adam and Amanda. They were just going out with Martin, who was my passenger on the fourth lap of the day. This was supposed to be my final lap of the weekend, so it was a bit slower than some of the other laps. The speed was reduced enough to avoid any serious back-end action, even when going up to Hohe Acht where the back usually demands a bit of attention.

I ran into Martin and company again at Pflanzgarten when taking some pictures. After a little while they had to leave to make their ferry, and I continued a little while longer snapping pictures of Karl's Blue Bus among others.

In the parking lot some interesting things were happening. For some reason some people with big fat cars seem to think that there's no need for them to be considerate or courteous. Case in point was an X5 who insisted on going backwards while a Speedster was already behind him, trying to get out of the parking lot. Most people I know would look in their mirror, see a car there, and drive the 30 meters around the parking lot to get to their destination. This guy decided to just honk the horn, put it in reverse and swear at the little Speedster as if it was doing something wrong. Unfortunately the big-ass car got his way this time.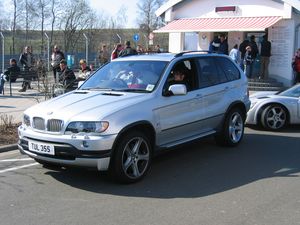 With the sun coming out in full force the RingBunny decided to make an appearance. It took a fancy to the rented Speedster quickly, not in the least because all of the gadgets spread out on the back of it.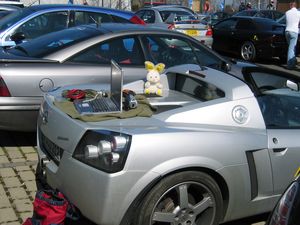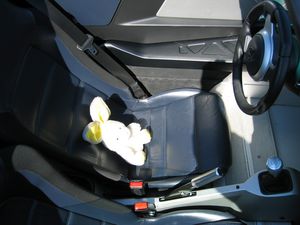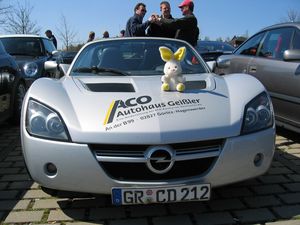 The Bunny even managed to liven up some shots by a camera crew that was only interested in Scoobies by moving right into shot during a mini-interview. Matt was of course approached because of his Scooby-jacket (the one that's warm, fleece-lined, waterproof, and folds into a small package). Yes, he had a Scoob. When asked where it was he had to tell them it was a long way away in the UK. After that, the interest of the camera crew immediately and totally faded away.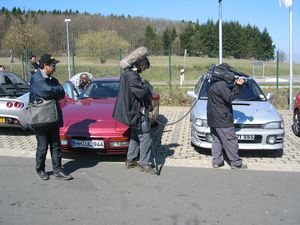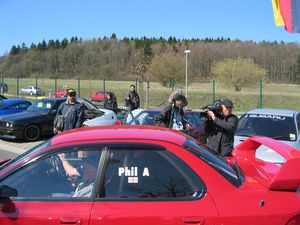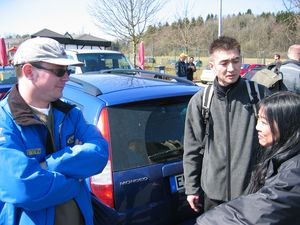 All good things come to an end. So did this weekend. It was absolutely brilliant. Mostly dry, good weather, lots of good company, lots of low-traffic laps, quite a few laps without seeing another car or bike, not too many closures, 20 good laps in total.
After some quick goodbyes I was on my way home, even though the RingBunny wanted to stay a little longer.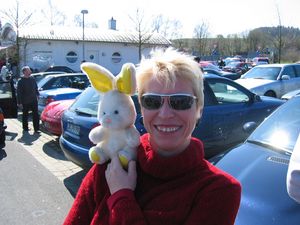 ---