Sunday
The trend of foggy mornings continued on Sunday. Inspired by Jeppe's lyrical descriptions of lapping on a foggy Ring I rolled out of bed to be at the track at 8am. It wasn't entirely surprising that there weren't too many people about at that early hour.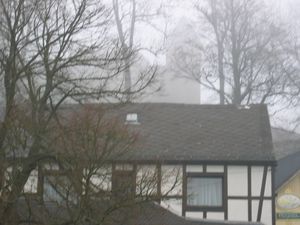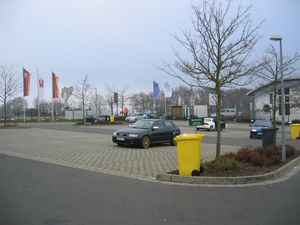 Without wasting more time I went out to do some laps. I did my by now habitual 3 laps, warming the engine and the tyres on the first, and having lots of fun on a nearly deserted track during the two consecutive laps. At the end of the second lap I saw Søren in his newly acquired DRT and Matt in his newly partially acquired C-Car. The pair of them was just turning off the track when I exited Galgenkopf. By the time I came through the barriers they were nowhere to be seen.
I got the distinct impression that they didn't really like the track conditions, as I managed to catch up to them by Aremberg. My plan was to follow them round a little. Søren immediately foiled my plan by moving over and indicating, requesting that I pass him. After obliging him I started following Matt. Pflanzgarten was interesting for both of us. First I saw Matt go sideways after the jump in Pflanzgarten 1, then I go sideways at exactly the same spot despite being slower than on my previous lap.
It was still friggin' cold, which prompted Matt to show off his Scooby-jacket again.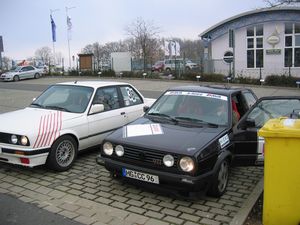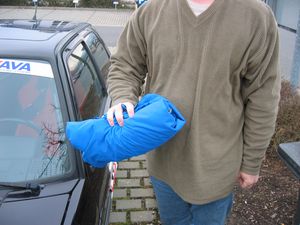 Kim graciously allowed me into his passenger seat to warm up a little. And warm up I did: Kim was really flying in the Smart Roadster. The first half of the first lap was merely fast, but the second half he was going truly fast. Especially Hohe Acht was interesting: I was sure he would brake before turning in, but instead of braking he downshifted a gear and floored it. For a second I was convinced we would take off and fly over the armco, never to be seen again. Instead we went round at a huge speed with a little squeal of the tyres.
The second lap was even more entertaining. Matt was behind us in the C-Car, while Kim and I were held up by a 996Turbo (a different one than the one who blocked Ed). Down Fuchsröhre Kim got a good run on him, which persuaded the Turbo to make some room to let us past. Matt put enough pressure on him to overtake him going up Kesselchen. The RingTaxi put in a decent appearance for a change: most of the time it had been going round at decidedly unimpressive speeds. Just before Steilstreckenkurve Matt overtook us thanks to the power advantage of the C-Car. Yet another Swiss Celica (this one was white) was the next victim. By the time we came to Döttinger Höhe the rearview mirror was empty.
Back at the parking area I met Paskal who was having some problems with the engine of his Peugeot.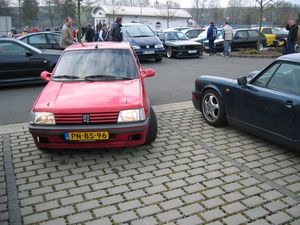 Having had so much fun on the track as a passenger it was high time to do some more laps myself before things got too crowded. I invited ThoRSten for a ride in my 964. It had been quite a long time since his previous passenger lap with me, so it would be his first experience with the new suspension. Having somebody with his abilities in my car can be a bit intimidating to me, which resulted in a few sloppy turns. Particularly the entry to Hatzenbach and the fast lefthander up Fuchsröhre were a bit of a mess. All things considered it was a fairly reasonable lap, but certainly not the cleanest I had done up till then. At least I managed to get Bergwerk right, something I never seem to do in Project Gotham Racing 2. ThoRSten kindly provided me with useful feedback on my lines and gear selection, particularly up Kesselchen and through Wehrseifen. I should stay tighter on the lefthand side of the track in the triple left up Kesselchen before Maddock 1. ThoRSten also advised me to use second gear in Wehrseifen, where I've been using third since the naming of Lovejoy Lane.
Having dropped ThoRSten off in the parking area I passed Søren and invited him for a lap. I hadn't quite figured out Thorsten's comments about Kesselchen by then, but I did notice a dot on the track that might become meaningful using the new line. Søren noticed that I tried a more aggressive turn-in at Wehrseifen, but I didn't really like it. All in all a nice lap with lots of tyre squeal, and at 8.50BTG one of my quicker ones.
I had planned to go to Brünnchen to take some pictures, but ran into Martin Plant who needed someone to put his Jahreskarte into the ticket machine at the barrier. His car for the weekend was the BMW 330d. Its engine management has been tweaked a little, and it accelerated out of the cones at an impressive pace. It was my first lap with Martin, and it was very smooth indeed. The number of breakdowns/crashed was increasing: two cars were stopped after Hocheichen, and another was stationary after Flugplatz. Hopefully I get a shot at being a passenger in the Yellow Cat sometime.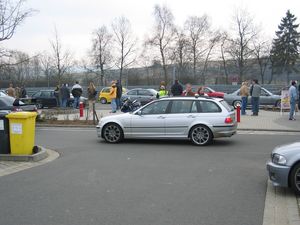 Kurt had had some comments from other drivers about how the Speedster was moving about on the track. Being the curious (nosey?) person that I am I rearranged the schedule for the rest of the day a bit to check that out myself. In short order I had Dave (Kurt's co-renter) in my passenger seat and went out behind Kurt in the VX220. Kurt was driving at a brisk pace, but the power advantage at higher speeds made it easy for me to keep up with him. Having more effective brakes was quite useful too.
As I'd observed when out with Martin, the track was getting busier and busier. We encountered a yellow flag in Hatzenbach. At Adenauer Forst Kurt let the back of the Speedster step out a bit on the upshift from second into third gear. The approach to Hohe Acht was interesting as well, because we had to make room for some fast Porsches. At Brünnchen we slowed down for another yellow flag. Afterwards we took a little cooldown on the roads outside and met up for an informal evaluation of the lap at the Gewerbegebiet.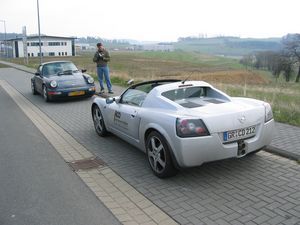 After a quick lunch I finally moved to Brünnchen for some photography. In keeping with the automotive theme somebody was having a lot of fun with an off-road radio-controlled car. My first photoshoot destination was Karussell, as I'd never been there before. It took me about 35minutes to hike there. In a car the stretch from Karussell to Hohe Acht feels very short, but if you walk it it feels a lot longer. Steilstrecken looked bloody steep when viewed from the top.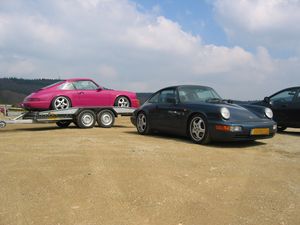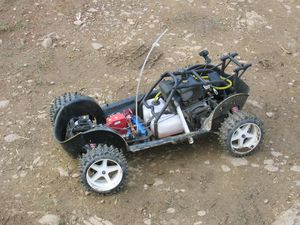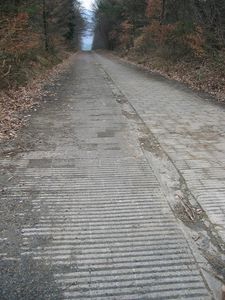 Naturally by the time I got to the Karussell the track was closed for a long time. When it opened again quite a few cars came by, but nobody I recognised. A bit boring, really, which was alleviated by Søren coming up with a cold Coke and a candybar. He was lucky that I opened my Coke before he did, as it came gushing out. A bit of a sticky mess, but that's the price you pay for cold Coke when you're on a hilltop. Søren had some fun with his new digital camera, and after a little while we moved down the hill towards Steilstreckenkurve. On our way we ran into Birgit, who was also on a photo/video mission.
The guys with their old Audis were providing a bit of entertainment, and so did the RingTaxi. Problem was that the RingTaxi had been quite slow all weekend, so when he provoked oversteer on the entry to Steilstrecken and did a nice long slide all the way through I didn't even have my camera switched on.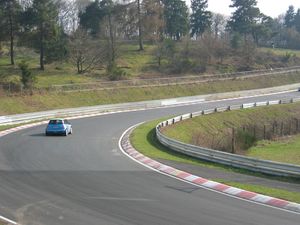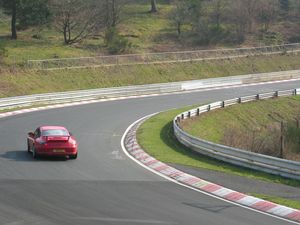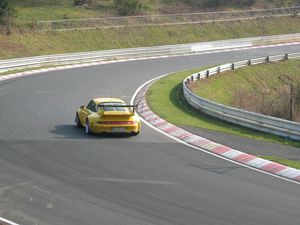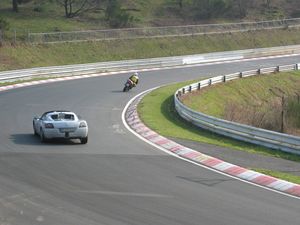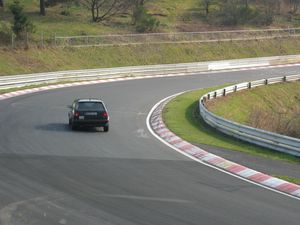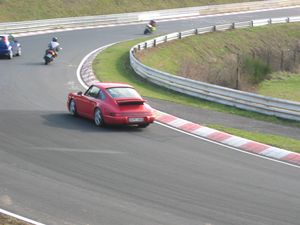 By this time we were getting quite cold, so Søren and I decided to pack up and head back for our cars. Of course we took the shortcut called "Steilstrecken". Let's just say that climbing it warmed us up quite quickly.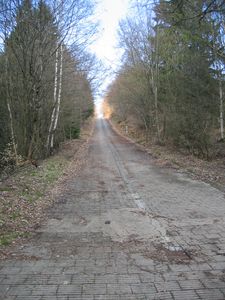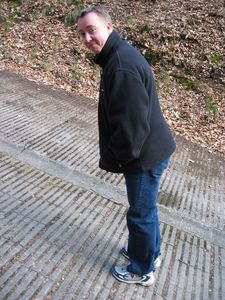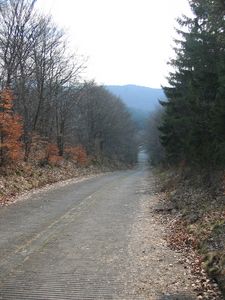 When we emerged at Hohe Acht we ran into Birgit again, still gathering footage for her video mission. ThoRSten made an on-track appearance in his Guards Red 964RS. When it looked as if the track had been closed again we moved on.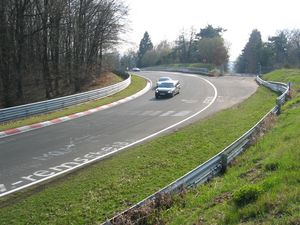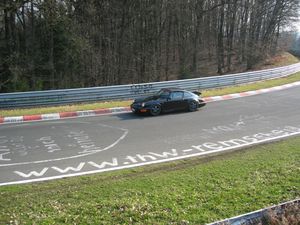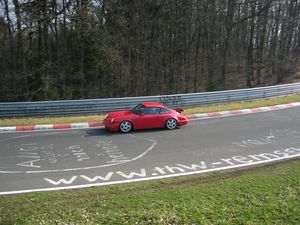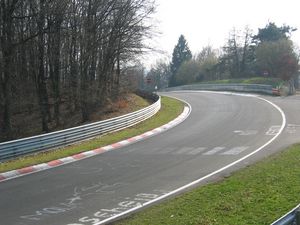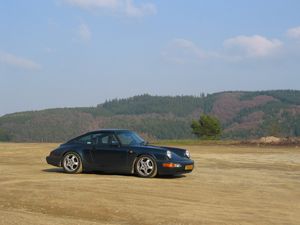 So far it been a fantastic weekend with lots of good tracktime, and the usual Ringers off-track entertainment in the carpark, around the track, during dinners, and after dinner. The icing on the cake was still waiting: a passenger lap with ThoRSten. Fast laps are always entertaining, but they are even better when the car is a 964RS. You can really feel the suspension working. The brakes are awesome. The sounds are glorious. You might even start thinking that a GT3 is a bit soft compared to a 964RS. Anyway, I like 964RS's. I like 'm a lot. And as usual, ThoRSten didn't hang about. Most of the lap he had a free track ahead of him, and he certainly made the most out of it. Being in his passenger seat again tought me a lot about how to drive a 911 fast. It also illustrated some of his earlier comments. Some points that stood out to me: using second gear at Adenauer Forst and Wehrseifen; the hard but still smooth and progressive turn-in; and of course the line through the triple left up Kesselchen. Apart from that it was of course a very entertaining ride, with quite a bit of sideways action. One example of this was mid-corner Eschbach, where a single simple move of the steering wheel brought the car back to a more conservative attitude. Great hard driving.
Another bit of admiring sharp machinery in the carpark yielded pics of the M3 of M3 John (no M3 John around though) and the M3 of Adwo.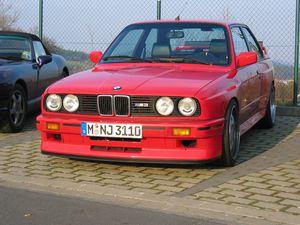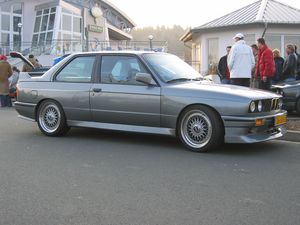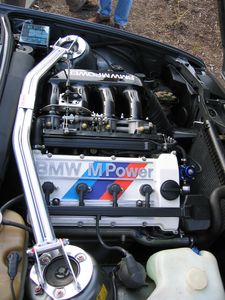 The last lap of the day was done in the passenger seat of Kurt's Speedster: a fitting end to a great day.
Just before we were leaving Jeppe demonstrated his mechanical skills by correctly identifying the oil filler cap, the washer fluid cap and the cooling fluid cap.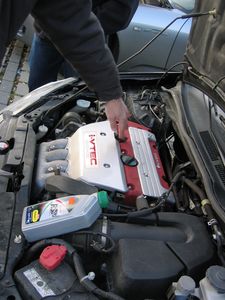 Picking up my car from the overflow parking lot across the road I noticed a rather large motorhome.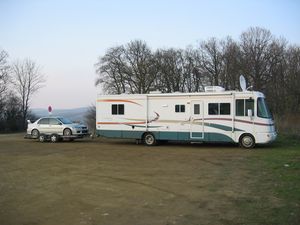 With a bit of persuading Ben agreed to have dinner in the Lindenhof. For some reason he's under the impression that service is slow there. The Grillhaxes a few nights ago came very quickly, but Ben reserved the right to say "I told you so" anyway. In hindsight Jeppe might have had some doubts too, because after ordering a Mineralwasser he got this itty bitty little blue bottle. The bottle was so small, the beer glass was bigger.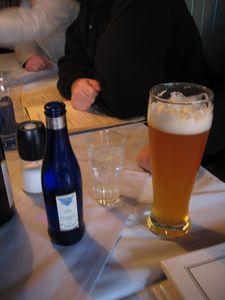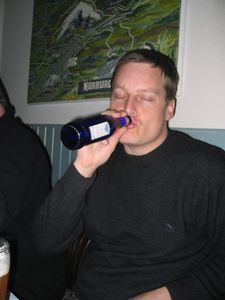 After dinner the Danes and I decided that we'd had enough early starts and had a nightcap or two back at the guesthouse. After subjects such as how to succesfully sell cars with running problems we turned to more serious business: how to improve your driving skills.
---