Highlights


Nürburgring


Races








Longer trips






Short trips




Cairns was quickly left behind. Greenish hilly countryside was quickly replaced by the Red Centre, where Alice Springs was my first destination. Highlight of the entire trip was an excursion with Leigh Goldsmith (The Outback Experience) into the desert. He knows his way around (a good thing, as he regularly drives faster than 120km/h off road), and also knows some of the pioneer families personally. He stops for photographs whenever you like, lunch is included, and you even get to open and close lots of gates during the day :)
Some highlights of the program, which is much better (in my opinion of course) than Ayers Rock:
The overland telegraph line
Ewaringa rock carvings (ancient Aboriginal)
Fossils
Chambers Pillar, upon which the early pioneers engraved their names when passing through
Hugh River, which is normally completely dry
The Ghan (if it runs on the day you take the tour)
Rainbow Valley
Some cattle stations
One funny gate
Lots of great stories
A much shorter excursion can be made to the local Royal Flying Doctor Service museum. It gives a nice overview of RFDS activities and equiment through the years. Even better is the bookstore: you can get "A Son of the Red Centre" by Kurt G. Johannsen here. Johannsen was one a true inventors, improviser and pioneer of the road train concept before there were even any roads! My copy was autographed by the author himself :-)
| | |
| --- | --- |
| | |
A quick flight in an almost empty aircraft (one stewardess per passenger) took me to Uluru. That's Ayers Rock for the less politically correct. Hotels are enormously expensive there, as everything that is needed to keep the modern tourist happy (such as water, bread and the like) needs to be trucked in by road train. Ayers Rock being a somewhat corny attraction (people seem to like walking up and down more than looking at it), I opted for an excursion to the Olgas (that's Kata Tjuta if you're PC) and King's Canyon. The schedule included a view of Ayers Rock at sunset. By the way: the flat-topped clump of rock in the bottom row is Mt. Connor, not Ayers Rock!
Another short flight takes you back to the civilized world (ahem), i.e. Sydney. Yet another big city, saved by a nice bridge and a creative opera house. The real highlight of Sydney was a look inside a Russion submarine (Foxtrot class).
A somewhat longer flight with stops in Bangkok and London took me home again after three months Australia. Little did I know I would be back within two years...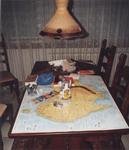 ---