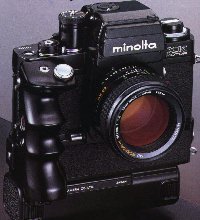 Minolta Manual Focus FAQ
Current / HTML Maintainer: Chris Valentine c.p.valentine@open.ac.uk

---
CONTENTS
1 Introduction - Updated: 21 Apr. 2000
1.1 Where could I get this FAQ ?
1.2 How to find Minolta in the US
1.3 Other Sources of Information
1.4 History of Minolta manual focus equipment
1.5 Bibliography
1.6 Is there a Minolta mailing list ?
2 Bodies - Updated: 18 March 2004
2.1 Minolta body names and dates of introduction
2.2 Many camera bodies today seem to be missing important features like depth-of-field preview or mirror lockup, which bodies offer these features?
2.3 SR series
2.4 SRT series

2.3.1 Contrast Light Compensation

2.5 XE series
2.6 XK series
2.7 XD series
2.8 XG series

2.8.1 Multiple Exposure on the XG-M
2.8.2 Specification of XG-9
2.8.3 The X-7

2.9 X series

2.9.1 The X-700
2.9.2 Tips for the X-700 Body
2.9.3 Focussing Screens for the X-700
2.9.4 Feature comparison between X-5x0 and X-700
2.9.5 Battery Indication with X-5x0 and X-700
2.9.6 The X-600
2.9.7 The X-3x0
2.9.8 Differences of the X-9

2.10 Which manual focus camera are still made today?

2.10.1 Is there a difference between Japanese and Chinese versions?
2.10.2 The Chinese-made Seagull clones

2.11 Is there a 'professional' Minolta manual focus camera?
2.12 Can one use autofocus lenses (MAXXUM) on the manual focus bodies?
2.13 What were the Leica/Minolta collaborative projects?
3 Lenses - Updated: 8 February 2003
3.1 There are different lenses series (MC, MD). What do they mean?

3.1.1 Cybermation
3.1.2 Can I use MC lenses on an XD- or X- series camera?
3.1.3 Making an 'MD lug' mod
3.1.4 What are the codes on the older manual focus lenses?

3.2 Pre-MC Lenses

3.2.1 Pre-MC Wide Angle Lenses
3.2.2 Pre-MC Normal Lenses
3.2.3 Pre-MC Telephoto Lenses
3.2.4 Pre-MC Zoom Lenses
3.2.5 Pre-MC Macro Lenses

3.3 Summary of MC lenses

3.3.1 MC normal lenses
3.3.2 MC wide angle lenses
3.3.3 MC telephoto lenses
3.3.4 MC zoom lenses
3.3.5 Extra MC lens information

3.4 Summary of MD lenses

3.4.1 MD normal lenses
3.4.2 MD wide angle lenses
3.4.3 MD telephoto lenses
3.4.4 MD zoom lenses
3.4.5 MD macro lenses
3.4.6 MD lens variants
3.4.7 MD and MD-contemporary manufacture lenses

3.5 Special Purpose Lenses

3.5.1 Shift
3.5.2 VariFocal Control
3.5.3 Fisheye
3.5.4 Varisoft

3.6 Teleconverters
3.7 Which lenses are still in production today?
3.8 Can one use manual focus lenses on the autofocus bodies (MAXXUM)?
3.9 Can one use autofocus (MAXXUM) lenses on the manual focus bodies ?
3.10 Enlarging Lenses
3.11 Lens Coating on MC and later lenses
3.12 Floating Element lenses
4 Flash - Updated: 30 April 2000
4.1 The Range
4.2 Features of the -PX series
4.3 Filter Sets
4.4 AC Adaptors
4.5 Fill Flash with the 360PX
5 Accessories - Updated: 11 April 2004
5.1 Motor drives

5.1.1 Winder G
5.1.2 Motordrive 1
5.1.3 Servicing a Winder G/D

5.2 Backs
5.3 IR-1 remote
5.4 Cables - what are they all for?
5.5 Eyepiece accessories: dioptre lenses and angle finders
5.6 Power Grip I and II
6 Others - Updated: 31 May 2001
6.1 What other MF bodies did Minolta make?

6.1.1 16mm format
6.1.2 110 format
6.1.3 126 format
6.1.4 Disc format
6.1.5 Cine cameras
7 What Is In The Future? - Updated: 20 May 1999
---
Return to MUG Main Page (frames)